Property 35 from 348

Next property
Previous property
Back to the overview
Ondara: Large finca with guest apartment, pool and garage
Property ID: CNS-2-0413
Address:
03760 Ondara
Alicante
Guest apartment / guest house:
yes
Suitable as holiday home:
yes
Number of parking spaces:
3 x Outside parking space; 1 x Garage
Year of construction:
1975
Type of heating system:
Gas
Property description:
Near the center of this El Vergel lies this lovely country house with a private garden and pool.In the front area of the finca is a large outdoor area with a garage with enough space for several cars. Here is also the entrance to the apartment that is equipped with a private bathroom and a fitted kitchen. A wall separates this area from the private located garden.The typical arches of the covered terrace are situated on the front and the long side of the house, and offer a balcony on the upper floor with 3 entrances.The garden area is easy to maintain and includes a 6 x 12 m swimming pool.The main house is divided on 2 floors. On the lower level is a kitchen, a living - dining room and a bathroom.On the upper floor there are 3 further bedrooms with en suite bathroom, a larger bathroom with tub and separate shower room and an office.
Fixtures and fittings:
Gas central heating, double glazed windows, security grills on the windows, satellite TV, 6 x 12 m swimming pool, telephone line, internet, well, solar panels, garage.
Location:
A quiet residential area in El Vergel near the town center, which is located in 5 minutes walking distance. It is only 10 min by car to the sea.
Commission Rate:
Our offers are free of any commission for the purchaser!
Remarks:
We prepare our offer with the greatest care. The information given by us is based on details from our clients and we can neither assume any liability nor guarantee their correctness and completeness. Prior sales, price changes and errors excepted. Taxes are not included in the price.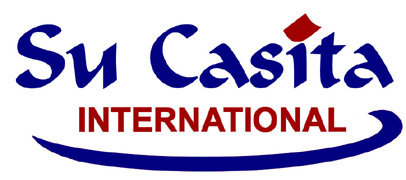 Su Casita, S.L.
Phone:
0034 - 966 790 012
Fax: 0034 - 966 790 016
Back to the overview