Get to know us better!
Many of you have already become acquainted with our team through the latest newsletters. So today the author of this monthly Spain newsletter concludes this presentation of the team (and of course hopes that this issue will also entertain you a little, wherever you read the mail, because it's HOLIDAY TIME!).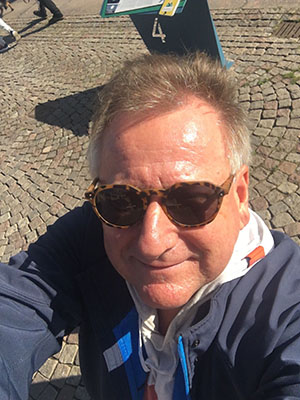 We, who live in a classic vacation country (Spain is always everyone's favorite), are no exception.
So as you read this, I'm sitting at my desk at Su Casita, and my vacation packing is almost behind me (figuratively speaking).
As a native of Hamburg, I have two recurring problems every year called July and August. Although I love Spain and my job, believe me, working continuously for two months at over 30 degrees, and very often outside, does not give you much time or energy for entertainment.
But I don't want to complain because during the other 10 months of the year it's wonderful to live here in Spain! And in the middle of summer, a "little escape" for the holidays helps us replenish our energy and discoveries. So I'm about to board the mobile home I've rented for the holidays and I'll be heading north towards Denmark and Sweden (I'll maybe tell you what I experienced there in the next newsletter or in person If I meet you at the agency. I will be delighted to tell you about my expedition.
By the way, talking has always been my thing. I started to practice the art of elocution in a boarding school in northern Germany, later on an island in the North Sea and a little later during my studies on the Baltic Sea. And that's where the radio came in.
After an internship at Radio Schleswig-Holstein and training as a presenter at Radio ffn in Hanover, I started working for various radio stations (including Radio Bremen, Hessischer Rundfunk, NDR) and also on television as a sports journalist (ZDF, Premiere/Ciel, DSF/Sport1).
During the winter of 2017/2018 a break of 5 months and with only my backpack as luggage I left Hamburg to New Zealand via Southeast Asia and after I returned to my point of departure. I met an incredible number of people along the way. People who work abroad with jobs that are exciting, challenging and sometimes quite strange. But everyone was pretty happy with what they were doing. That's when I asked myself the question: do I really want to spend all my time until I retire in air-conditioned radio studios and newsrooms? I already knew the answer and that outside there was the world to discover!
Back in Hamburg, I was holding a piece of paper in my hand on which I had summarized the general conditions that I expected from a possible new job: among other things, more closeness to people, more work at the "big air" and greater flexibility in my hours at work!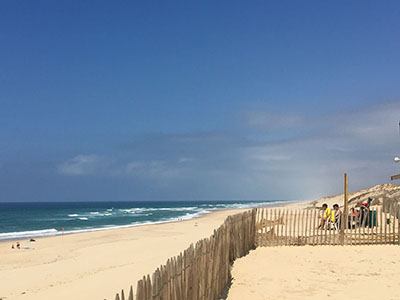 So I found all that (and more!) in Spain. I admit that joining our parents' company is always a risk, but I knew this job was for me. Following a three-month trial internship, and thanks to my knowledge of the field and my ability to communicate easily, the job was mine. By the way, I return from time to time to my former activities as a commentator. This year, from September 16 to 18, I will comment on the activities crowning the anniversary of the Port of Hamburg. To give you just a small idea, I will explain to thousands of visitors (based on the already existing colorful program) what a ballet of tugboats is!!!. By the way, it's a job I still love
.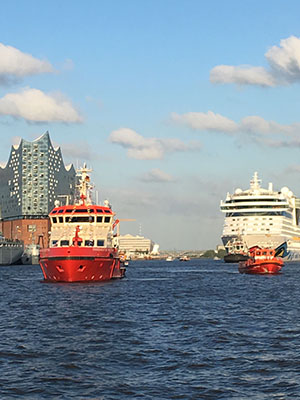 Water has always been a part of my life, growing up as a "coast and beach boy" I love just about anything water sports related. So I landed in Spain, so to speak, in paradise. This also applies to another hobby of mine, golf. There are so many choices of golf courses here that I could play a round of golf on a different course every day of the month. But I can't spend so much time playing golf because I also like to travel (you already noticed that earlier in this newsletter).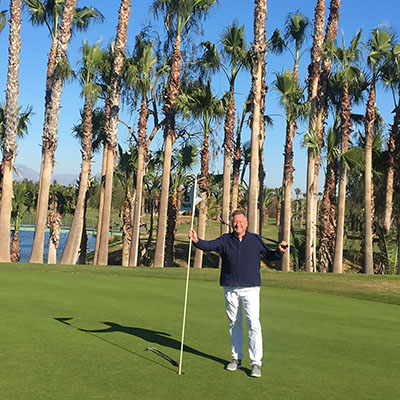 And moreover, I also like to be available to discover beautiful properties with you. Sometimes it's not so easy, because of course the criteria of our clients are as different as the people themselves. But so far the vast majority of our clients have been able to get the desired help and have found their little paradise in Spain. It is a collaborative work and requires a little time on your part and experience, seriousness and reliability on our part.
Just in case, I've selected some great properties for you today and as always, I wish you lots of fun browsing!
Your vacationer,
Jan Hannemann