Spain Info June: Woof!
Hello, my name is NIKO.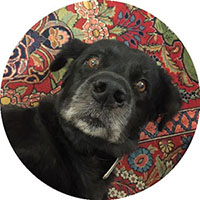 I am 12 and a half years old and I am a dog, but not only a dog, a crossbreed dog, so I am a happy mixture of beautiful dogs.
My master and my mistress have asked me to tell you a little about myself, and because they are the ones who prepare all the delicious food for me every day, I am of course happy to obey.
They are both owners of our business, and I say "our" because not only do I belong to the family, but I am also the "mascot" of SuCasita!
My day starts early in the morning with a long walk with my pet mum because she is always the first to wake up....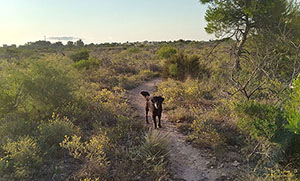 After that I am entitle to a small snack every morning (I'd rather like a big bowl full of food but it's ok, I am not to be pitied far from there! :) ).
Then I "chill", look at the picture below and you will understand what I mean.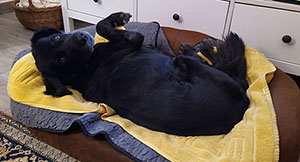 You know, we dogs have two favourite activity groups: "relax and sleep" and "eat and drink". I practice both with great devotion! And my hobby (I have one too!) are giving cuddles or even better: being cuddled (I could sit there being cuddled for hours!).
Plus the food here in Spain is great even for me as a dog! The only problem is that there is never enough for my taste! A good thing is that there is always a little snack ready for me between meals (have you heard of the beef jerky rumen? I LOVE IT!!)
Overall Spain is a great country for us dogs. We have our own beaches and parks and on my walks I always meet a lot of people who smile at me in a friendly way or even cuddle me. I feel at home here!
As for the "chill out" time, the temperature here in Spain is ideal for my nap in the sun or in the shade during the day.
And just to make sure you know, I have also a very specific idea for my dream house too. It could be something like this: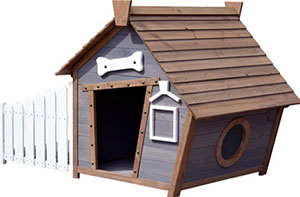 It would be great, such a house, just for me!
Fortunately, my pet parents have a larger home in which several rooms are mine, or at least I consider them to be my domain. So I live comfortably without paying anything (what more could a dog ask for!).
That's all from me for today. Maybe we will get to know each other here at the agency and if you want I can also accompany you on a tour of the surroundings….
I know places, I can tell you!!
About it: Below are a few of my "favourite places" where I could very well imagine myself living, maybe you will like some of them too.
Oh, by the way, did you know that SU CASITA has been around for 25 years now? (that's exactly twice my age!). My good friend Jan will write more about it in the next newsletter!
I have been called for my dinner now, so I wish you a good day and lots of good things to eat!
Woof!